Simeon Goldmann
Prospectus of the Austrian and Venecian Friuli plain from Gorizia to the sea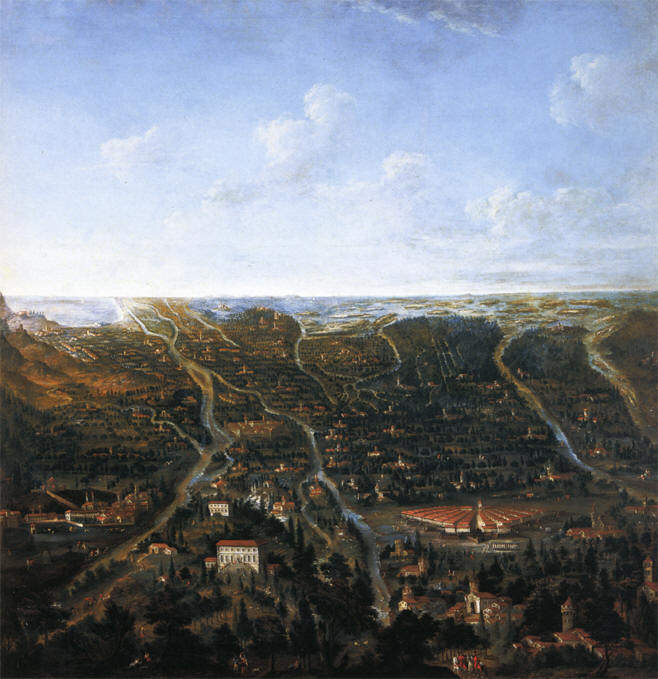 Simeon Goldmann - Prospectus of the Austrian and Venecian Friuli plain from Gorizia to the sea, 1779
Oil on canvas, 169 x 190 cm. Gorizia, Foundation Savings Bank of Gorizia
On the back of a pasteboard sized with canvas:
«Mappa della Pianura / Dell Friuli Austriaco e Veneto, con la Città di Gorizia Austriaca, / la fortezza di Palma Veneta. / Gradisca Austriaca / Marano Veneta, / Aquileia Austriaca, e in lontananza, quella di Grado Veneta. / Li Monti dell Carso, Territorio di Monfalcone Veneto, e il / Castello di Duino delli Conti della Torre, Austriaco./ Sotto la città di Gorizia si vede il fiume Lisonzo, il quale / principia a rinchiudere la pianura dell Paese fino all Fiume / Stella, e dall'altra parte di Palma, il fiume Corno e l'ultimo / il Stella. / Appare in lontananza la Torre di San Marco, la quale con / Giornate serene e chiare, della Torre d'Aquileia si vede. / Il quadro si trova cavato della Mappa, Come li diversi / punti che per questa riduzione furono necessariamente presi. / Lo hanno permesso di fare. Finito il 1° febrajo 1779. / Ferdinandus Philippus Comes de Harrsch, delineavit. / Goldmann pinxit».
The painting is an extended panorama prospectus with a bird's eye view. It comprises the territories from the Gorizian Collio to the gulf of Trieste and the lagoon of Marano. On the inscription on the back side of the canvas the localities are quoted with attached importance to distinguish between places under Habsburgian and Venetian authorities: Gorizia Austrian, Palma Venetian, Gradisca Austrian, Marano Venetian, Aquileia Austrian, Grado Venetian. The boundaries of the prospectus are given from the riverbed of the Isonzo on the left side while on the right side Corno and Stella interrupt the plain. The inscription reminds that in a clear day it is possible to see the bell tower of Venice from the bell tower in Aquileia. The two prospectuses are very important for the history of Gorizia and its provinces because they make out the first – and maybe the only – attempt to reconstruct a unified imagine of the territory with the basis in the palpability of the boundaries.
Annalia Delneri