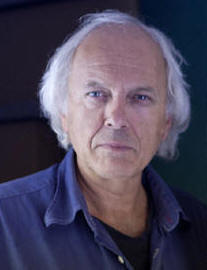 Roberto Kusterle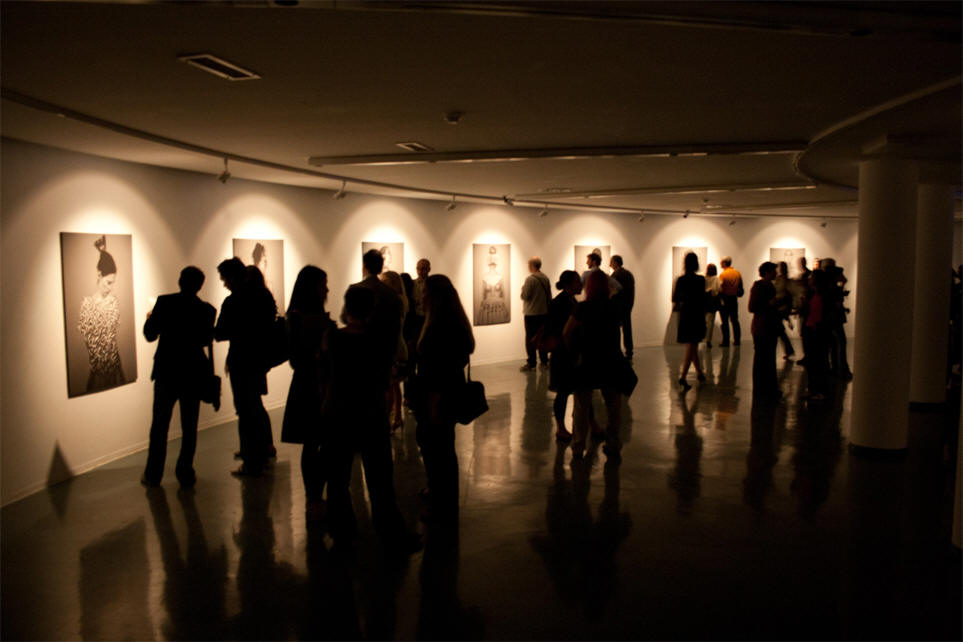 MESTNA GALERIJA, Trg Edvarda Kardelja 5, SI 5000 Nova Gorica, Slovenija
T. 386 5 335 40 17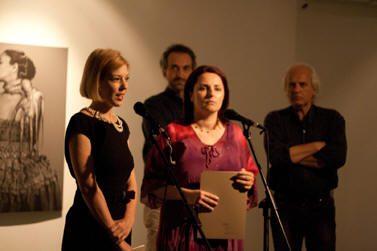 Mestna Galerija, Nova Gorica. Presentazione della Mostra

Roberto Kusterle was born in 1948 in Gorizia (Italy). It is since the 1970s that he has been present in the field of fine arts. At the beginning of his production, he spent much of his time painting and making installations, while over the past two decades he has been devoted to photography, thanks to which he has become famous. His photographies have been published in more than twenty publications. In 2006 he won the Best-Photo-of-the-Month Award for his Anahronos photographic exhibition, which was held in Slovenia. He lives and works in Gorizia (Italy).
Roberto Kusterle, durante la presentazione della Mostra ringrazia gli organizzatori
Roberto Kusterle se je rodil leta 1948 v Gorici. Na prizorišču likovne umetnosti je prisoten že od sedemdesetih let, ko se je ukvarjal s slikarstvom in instalacijo, zadnjih dvajset let pa se posveča predvsem fotografiji, po kateri tudi najbolj slovi. S svojimi fotografijami je opremil prek dvajset publikacij. Leta 2006 je prejel za razstavo Anahronos nagrado Meseca fotografije za najboljšo fotografsko razstavo v Sloveniji. ivi in dela v Gorici (Italija).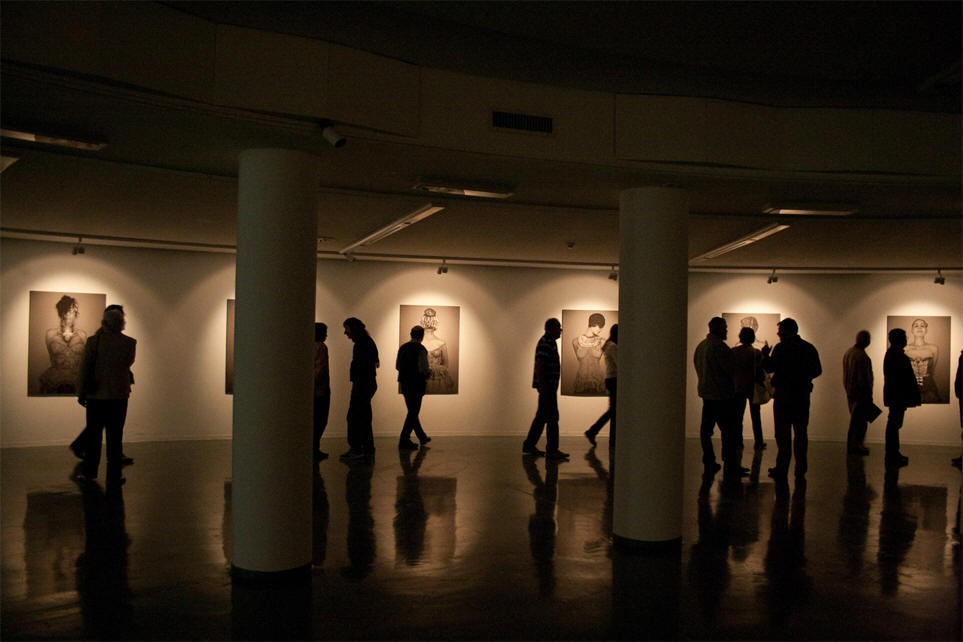 Roberto Kusterle è nato nel 1948 a Gorizia, dove vive e lavora. La sua formazione avviene da autodidatta; dagli anni '70 lavora nel campo artistico dedicandosi sia alla pittura sia alle installazioni. Dal 1988 inizia a interessarsi alla fotografia che diventa, con il passare degli anni, il suo principale mezzo espressivo. Ha realizzato con i suoi lavori oltre venti pubblicazioni e nel 2006 ha ricevuto il Premio per la migliore mostra fotografica in Slovenia al Mesec fotografije di Lubiana.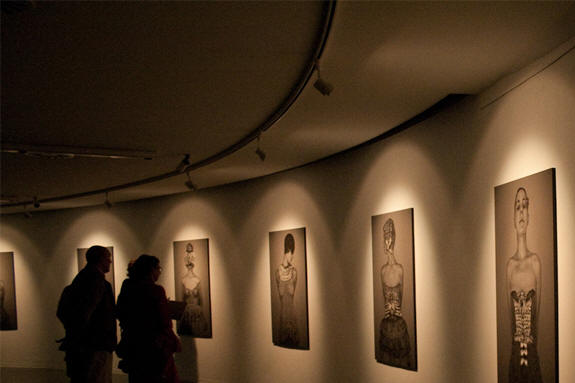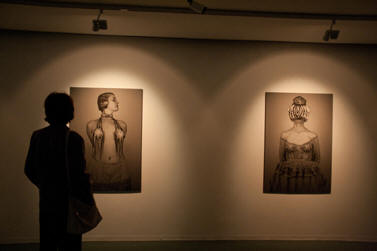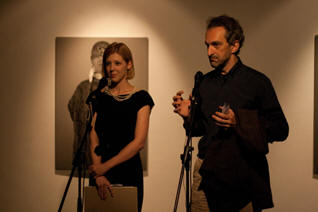 Fulvio Dell'Agnese durante la presentazione della Mostra
MUTABILES NYMPHAE
"Divinità minori [...]. Pericolose, come lo è la memoria quando è indagata nei suoi recessi più oscuri, come lo sono il desiderio e il tempo stesso."1
In una luce livida, le ninfe di Kusterle emergono da un mondo sommerso: il mare, a giudicare dallo stadio animale delle loro metamorfosi. Chele, pinne e tentacoli — ormai parte dei corpi, come estensioni della carne — ce le direbbero Nereidi, ma si tratta di creature che potrebbero essere risalite fino a noi nell'opaco sciabordio di un canale come quelli su cui fluitava l'Atalante di Vigo, al gorgogliare di una chiusa non distante dalla città; perché sembrano condividere, della moderna esistenza, la torbida sensazione che talora ci assale di non avere il pieno controllo della nostra identità.
Eccole, reduci dalle profondità di un viaggio al termine della notte che ce le restituisce con addosso la vitalità di una natura onnivora e brulicante, intrise di seduzione, ma al tempo stesso con un sapore di morte già consumata.
Sono personaggi che si potrebbero immaginare in un disegno di Klinger, pervasi di una sensualità che sta nell'erotismo implicito dell'offrirsi in posa al ritratto, ma è anche nella viscida o cheratinica evidenza di una compenetrazione metamorfica: a partire quasi sempre dalle chiome, in altre opere di Kusterle percorse da un repentino serpeggiare di radici e qui ridotte ad anguiforme intrico di ventose, serrate sotto una celata d'arti di granchio.
La trasformazione germina fin sui tessuti, dove le squame di pesciolini guizzanti si fanno scintillio di lamè. Dove invece gli abiti conservano impronta di umana sartoria, essi parlano di altre epoche, di una moda dal dolciastro, necrotico sentore di tempo andato. La loro è una fibra che dà l'impressione di potersi sbriciolare sotto i nostri occhi come gli affreschi romani nel finale felliniano di Satyricon, ma che per ora conserva in sé l'impronta di Bronzino e Michelangelo, in bilico tra il classico e le sofferte dissonanze del mondo nuovo.
Come in quegli antichi artifici di Maniera, le figure sono irreali; in questo caso perché senz'acqua.
Non hanno la luccicante e spontanea sensualità di una sirena o d'una cinematografica spia in bikini che emerge gocciolante dalle onde, ma quella più torbida, alchemicamente lambiccata, di un parto della psiche.
Silenziose, quasi fossero consce dell'inanità del dire, di come "non resistono le nostre frasi al disastro del loro arredo di bave"2, queste creature ci turbano perché le percepiamo emerse da una dimensione profonda, da un "sotto la superficie" che mette in crisi la planarità del nostro sguardo; e che forse chiama in causa l'ambiguità quale unica concreta condizione del nostro essere.
Cosa sono, queste ninfe? Memoria degli abissi mitici da cui veniamo o proiezione verso quanto di oscuro ci attende? Nei loro pizzi provocanti ma frusti sembra di leggere il futuro ricordo d'una schermaglia amorosa, di una dialettica dei corpi e dello spirito di cui — nella prevedibile affermazione di autosufficienza dell'io, con la sua pervasiva specularità — "... quello straccio seducente è uno dei residui rimasti E...]. Qualcosa come un cencio del tempo"3.
Fulvio Dell'Agnese (critico e storico dell'Arte)
<![if !vml]>
<![endif]>1 G. Didi-Huberman, Ninfa moderna, Il Saggiatore, 2004 [2002], p.11.
2 L.F. Céline, Viaggio al termine della notte, Corbaccio, 1992 [1932], p. 373.
3 G. Didi-Huberman, Ninfa moderna, cit., p. 27.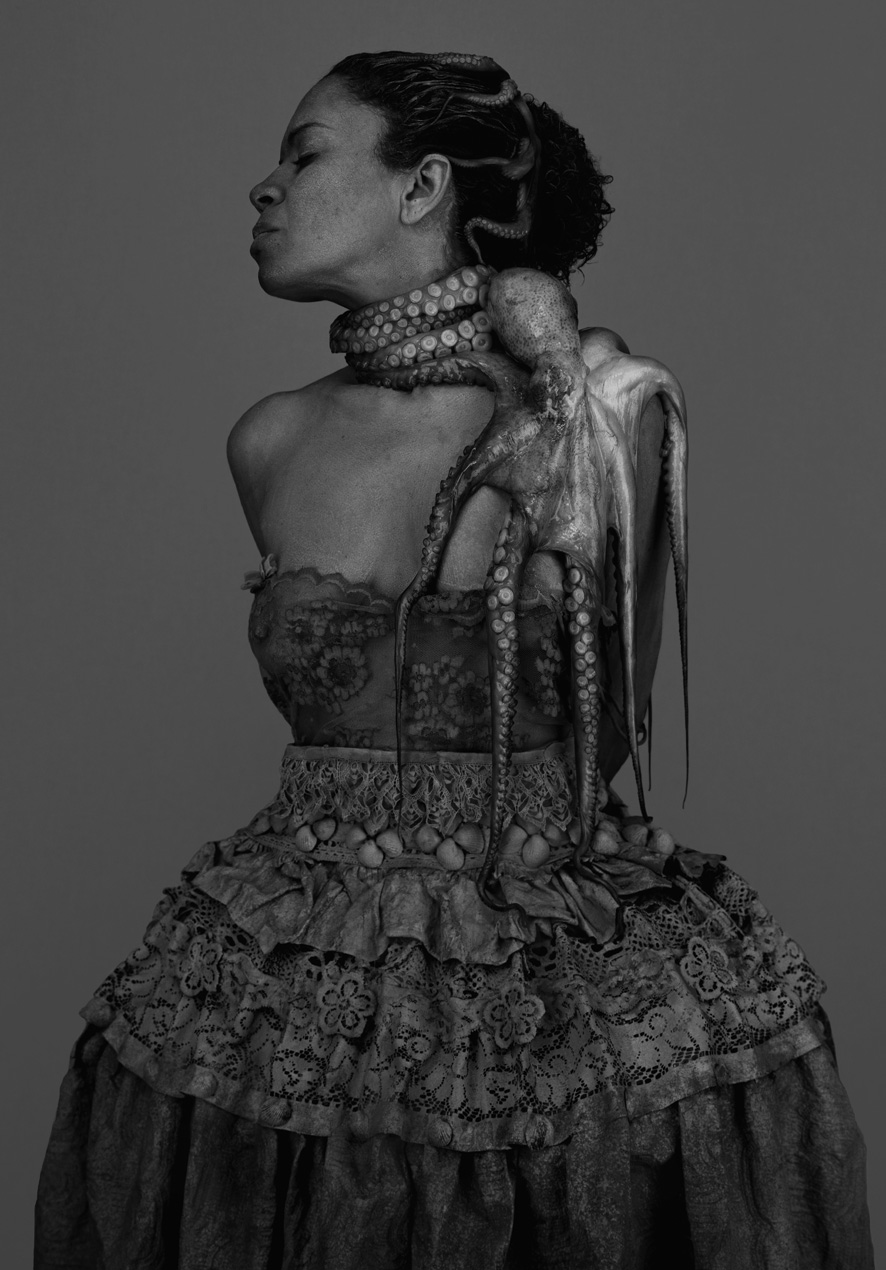 © Roberto Kusterle. Denise, 2010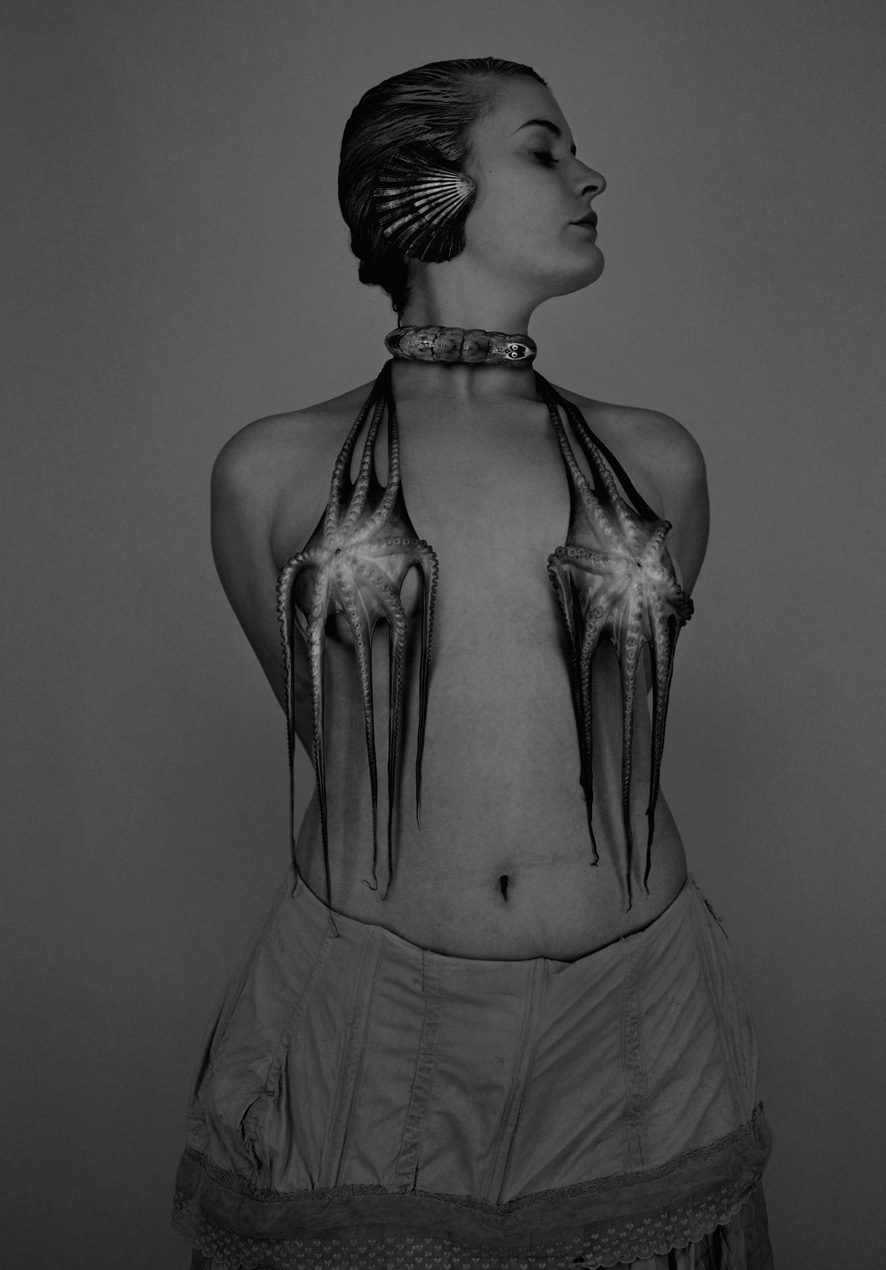 © Roberto Kusterle. Eva, 2010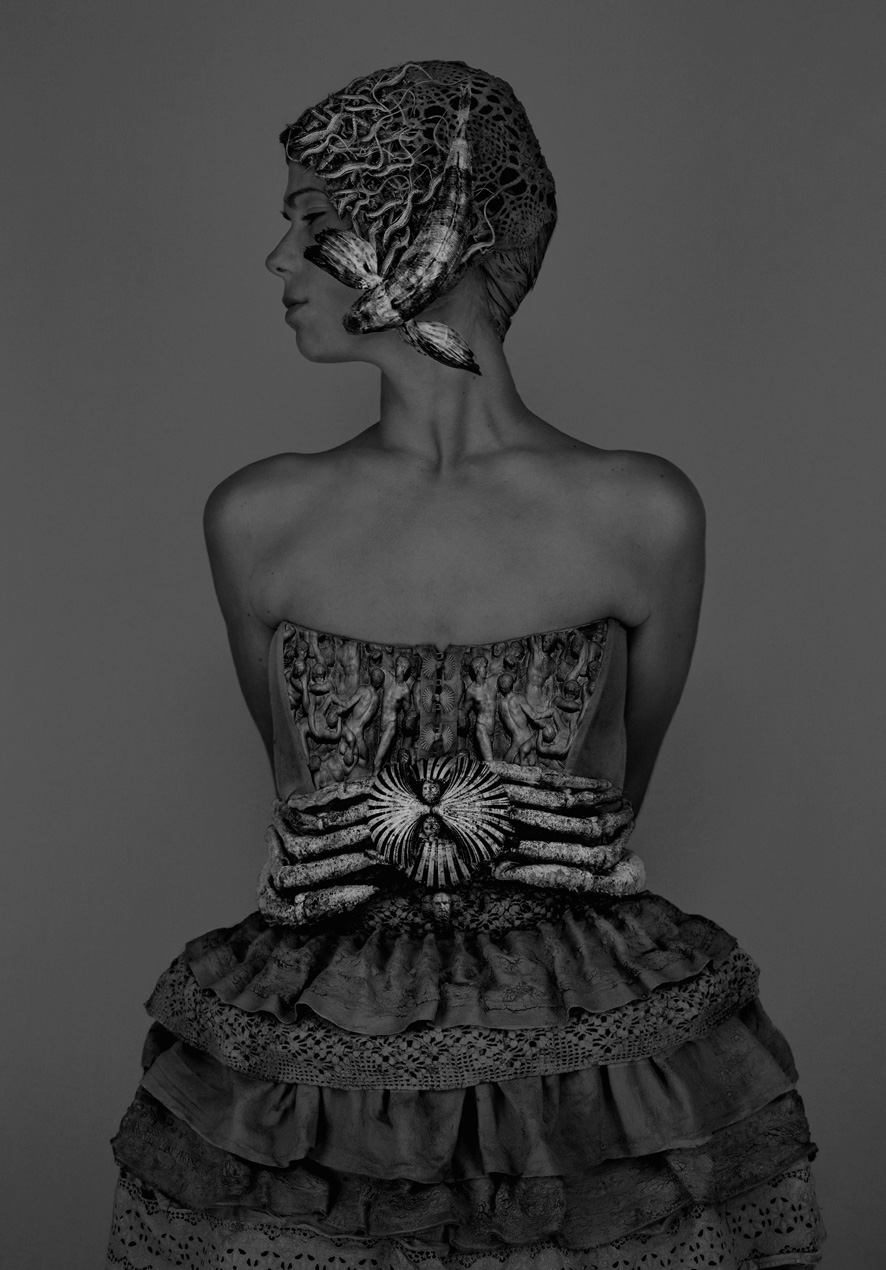 © Roberto Kusterle. Elisa, 2010
MUTABILES NYMPHAE
"Minor deities [...]. Dangerous, as is memory when we investigate it in its deepest recesses, as are eagerness and time itself"1.
In a livid light, KusterlÈs nymphs surface from a flooded world: the sea, judging from the animal stage of their metamorphoses. Claws, fins, and tentacles – already parts of their bodies, extensions of their flesh – would identify them as Nereids, but these are creatures that might have risen to face us from the muddy swashing of a canal similar to those on which Vigo's Atalante rafted, amidst the gurgling of a lock not far from the city; actually, with our modern existence they share the turbid feeling, that sometimes besets us, not to be in full control of our identities.
Here they are, back from the depths of a journey to the end of the night, returning to us coated with the vitality of an omnivorous and swarming nature, imbued with seductiveness, but at the same time with a flavour of accomplished death.
We could imagine those figures in a drawing by Klinger, filled with a sensuousness consisting in the implicit eroticism of offering themselves in pose for the portrait, but also in the viscid or keratinous evidence of a metamorphic interpenetration starting almost invariably from the hair, that in other of KusterlÈs works quivers in a sudden wriggling of roots, while here it turns into a snakelike tangle of suction cups, tightened beneath a sallet of crab claws.
The transformation sprouts even in the tissues, where the scales of little wiggling fishes become the twinkling of a lamé. But where clothes preserve the mark of human tailoring, they recount about past ages, about a fashion emanating a cloying, necrotic taste of bygone times. Their fibre gives the impression of being about to crumble in front of us like the Roman frescoes in the ending of Fellini's Satyricon, but for now it preserves in itself the mark of Bronzino or Michelangelo, suspended between the classical world and the distressing dissonances of the new world. As in the ancient artifices of Mannerism, figures are unreal, in this case for lack of water. They do not possess the glimmering and spontaneous sensuousness of a mermaid or a movie spy that emerges dripping from the ocean, rather they exhibit the more turbid, alchemically concocted sensuousness of a psychic birth.
Silent, as if they were conscious that speaking is useless, that "our sentences do not withstand the disaster of their slime garments"2, these creatures disquiet us because we sense them as risen from a deep dimension, "from under a surface" that disrupts the planar quality of our way of looking; and perhaps points to ambiguity as the only concrete condition of our being. What are these nymphs? Arе they a memory of the mythical abyss wherefrom we come or a projection towards the darkness that awaits us? In their provocative but worn out embroideries we seem to read the future recollection of a love skirmish, of a dialectic between body and spirit, of which – in view of the likely assertion of the self-sufficiency of the ego, with its pervading specular character – "... that seductive rag is one of the relics left over [...]. Something like a timÈs shred"3.
Fulvo Dell'Agnese
<![if !vml]>
<![endif]>1 G. Didi-Huberman, Ninfa moderna, Il Saggiatore, 2004 [2002], p. 11.
2 L.F. Céline, Viaggio al termine della notte, Corbaccio, 1992 [1932], p. 373.
3 G. Didi-Huberman, Ninfa moderna, cit., p. 27.
MUTABILES NYMPHAE
"Manjša božanstva (...). Nevarna, kot je lahko nevaren spomin, ko brskamo po njegovih najtemnejših kotičkih, kakor strast in sam čas."1
V svinčenasti svetlobi se Kusterletove nimfe vzdigujejo iz potopljenega sveta: iz morja, če presojamo živalski stadij njihove metamorfoze. Klešče, lovke in plavuti — že deli telesa, kakor podaljški mesa — bi jih lahko poistovetile z Nereidami, vendar so to bitja, ki so priplavala do nas v temačni strugi prekopa, podobnega tistemu po katerem je plul Vigov Atlantis ob grgranju soteske nedaleč od mesta. Zdi se, da si z moderno eksistenco delijo moten občutek, ki nas včasih navdaja, ko nimamo popolne oblasti nad svojo istovetnostjo.
Tukaj so, preživele so globine potovanja na robu noči. K nam se vračajo s priokusom vsejede in mrgoleče narave: prežete z zapeljevanjem in hkrati z okusom že izrabljene smrti.
So liki, ki si jih lahko predstavljamo na Klingerjevi sliki. Prežeti so s čutnostjo implicitne erotike, ki se nastavlja portretu ter se istočasno nahaja v sluzasti in keratinski evidenci metamorfoznega prodiranja: skoraj vedno izhajajoč iz lasišča, po katerem se v ostalih Kusterletovih delih pretakajo nenadna zvijanja korenin, ki se tu sklenejo s kačasto spletko priseskov zaprtih pod oklepom rakovih udov.
Preobrazba klije celo do blaga, na katerem se luske švigajočih ribic spremenijo v svetlikajoči lame. Kjer pa oblačila ohranjajo pečat človeškega krojaštva, pripovedujejo o različnih dobah, o modi s sladko in odmirajočo slutnjo minulega časa. Vlаknо, ki jih obdaja, nam ponuja občutek, da se bo razdrobilo pod našimi očmi kakor rimske freske v finalu Fellinijevega Satyricona, čeprav začasno ohranja pečat Bronzina in Michelangela, na meji med klasiko in bolečo neubranostjo novega sveta.
Kakor v starih manierističnih umetnijah, so figure nerealne: v tem primeru, ker so brez vode. Nimajo bleščeče in naravne čutnosti sirene ali filmske vohunke v bikiniju, ki se mokra dvigne iz valov, temveč tisto motno, alkimističnemu zvarku podobno čutnost psihičnega
rojstva.
Tihe so, kakor bi se zavedale ničevosti povedanega, da "naši izrazi ne vzdržijo nesreče njihove sluzaste oprave".2 Ta bitja nas vznemirjajo, ker občutimo, da so izšla iz globoke dimenzije, "pod površino", ki postavlja v škripce lebdenje našega pogleda in verjetno prikliče dvoumnost kot edini konkretni pogoj naše biti.
Kaj so te nimfe? Spomin mitoloških globin, iz katerih izhajamo, ali projekcija proti mraku, ki nas čaka? Zdi se, da lahko v njihovih izzivalnih, a obrabljenih čipkah preberemo bodoči spomin ljubezenske borbe, dialektike teles in duha, v kateri — v predvidljivi potrditvi samozadostnosti jaza, s svojo predirno preračunljivostjo — "... je tista zapeljiva cunjica eden izmed ostankov (...). Nekaj kakor sled časa."3
Fulvio Dell'Agnese
1 G. Didi-Huberman, Ninfa moderna, I1 Saggiatore, 2004 [2002], p.11.
2 L. F. Céline, Viaggio al termine della notte, Cоrbаccіо, 1992 [1932], p. 373.
3 G. Didi-Huberman, Ninfa moderna, cit., p. 27.